What is MUDRA Yojana?
This yojana under PMMY or is an initiative by the Gov. of India that provides loans to people and MSMEs with the support of banks and NBFCs. Micro Units Development and Refinance Agency Scheme is provided under 3 loan schemes, named Tarun, Shishu, and Kishor. Loans provided by banks under the Mudra yojana are collateral-free.
Objective of The Yojana
Mudra loan is extended for a diversity of purposes which offers employment creation and income generation. The loans are extended basically for
Business loan for Shopkeepers, Traders, Vendors and other Service Sector activities
Working capital loan for MUDRA Cards
Equipment Finance for Micro Units
Transport Vehicle loans
Advantages of Mudra Loan
Loan amount up to Rs. 10 lakh
Collateral-free loans
Low interest rates with even lesser processing fees
Loan comes under Credit Guarantee Schemes from Government of India
Can be utilized as overdraft facilities, term loans, and working capital loans
All Non-farm enterprises, i.e. micro or tiny firms engaged in the income-generating activities do avail Mudra loans
Mudra loans can also be availed by individuals belong to ST/SC class at concessional interest rates
Loans for Women Entrepreneurs at lesser interest rates
The intercession have been named 'TARUN', 'SHISHU', and 'KISHOR' to denote the stage of development / progress and funding requirements of the beneficiary micro unit.
Shishu (Cover up loans upto Rs. 50,000/-) : This phase would serve to entrepreneurs who are either in their earliest level or require less funds in order to get their businesses began.
Kishor (Cover loans upto Rs. 5,00,000/-): This level of entrepreneurs will be owned to either those who have already initiate their business and need add on funds to marshal their business.
Tarun (Cover loans upto Rs. 10,00,000/-) : If an entrepreneur meets the necessary eligibility conditions, she/he do apply loan for upto Rs.10 lakhs. This will be the highest pond of amount that an entrepreneur can apply for a startup loan.
The lending rates are as per the RBI rules issued in this context from time to time.
Features of Mudra Loan
Types of Mudra Schemes
Shishu, Kishor, and Tarun
Loan Amount

Under Shishu Scheme: Up to Rs. 50,000
Under Kishor Scheme: Rs. 50,001 – Rs. 5,00,000
Under Tarun Scheme: Rs. 5,00,001 – Rs. 10,00,000

Interest Rates
As per the applicant's profile and business requirements
Processing Charges
Nil, or 0.50% of the loan amount
Collateral/Security
Not Needed by Banks/NBFCs
Repayment Tenure
From 12 months to 5 years
Eligibility
Any Indian Citizen who has a business plan for a non-farm income generating activity such as service sector, trading, processing or manufacturing whose credit requirement is up to Rs 10 lakh
The usual terms and conditions of the lending agency might have to be follow up for availing of loans under this yojana.
The business should be either one of the following:
Tiny manufacturing enterprise
Shopkeepers
Vegetable and Fruit vendors
Artisans
'Activities allied to agriculture', e.g. Poultry, livestock, pisciculture, bee keeping, sorting, aggregation agro industries, rearing, grading, agriclinics, agribusiness centres, diary and fishry, food and agro-processing, etc. (excluding crop loans, land improvement such as wells, canal, and irrigation).
How to apply
Eligible beneficiaries do apply for PMMY Loan online on Udyamimitra Portal.
For assistance call toll free number 1800 180 1111/1800 11 0001
Whom to contact 
The loans under PMMY yojana can be availed only through lending institutions and banks which include:
Public Sector Banks
Private Sector Banks
State operated cooperative banks
Rural banks from regional sector
Institutions providing micro finance
Financial organizations other than banks
Process to apply online under Mudra Yojana
Initially of all you have to visit to official website of PMMY Yojana.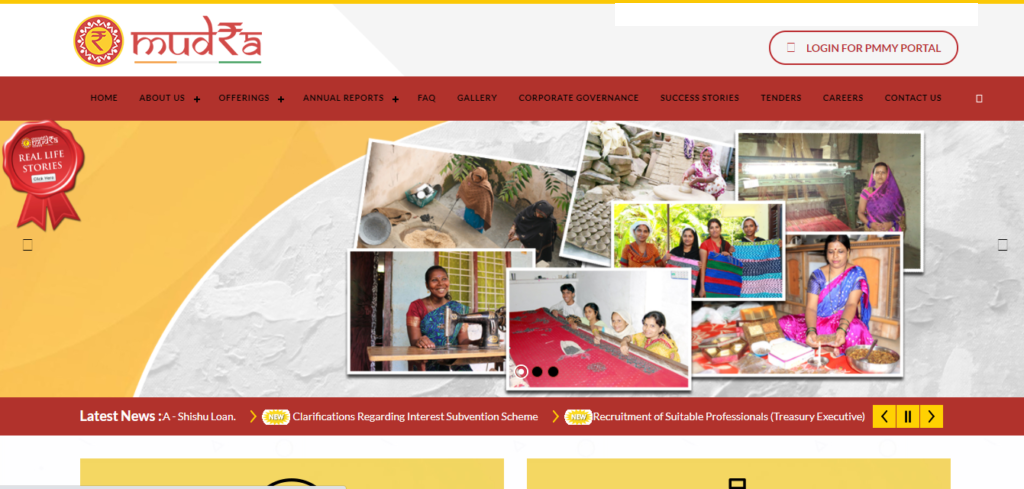 Then the home page will be visible to you.
 On the home page, you will see the types of PMMY schemes
 After this a new page will be visible to you.
 You supposed to download the application form from this page.
 After that you supposed to take the print out of this application form.
 Now you supposed to fill all the significant information asked in the application form anxiously.
 After this you supposed to attach all the significant documents.
 Now you supposed to submit this application form to your closest bank.
 After the verification of your application, the loan would be offered to you within 1 month.
 Process to login to Mudra Portal
Initially of all you supposed to visit to the official website of PMMY scheme.
Now the home page will be visible in front of you.
 On the home page, you supposed to press on the login button.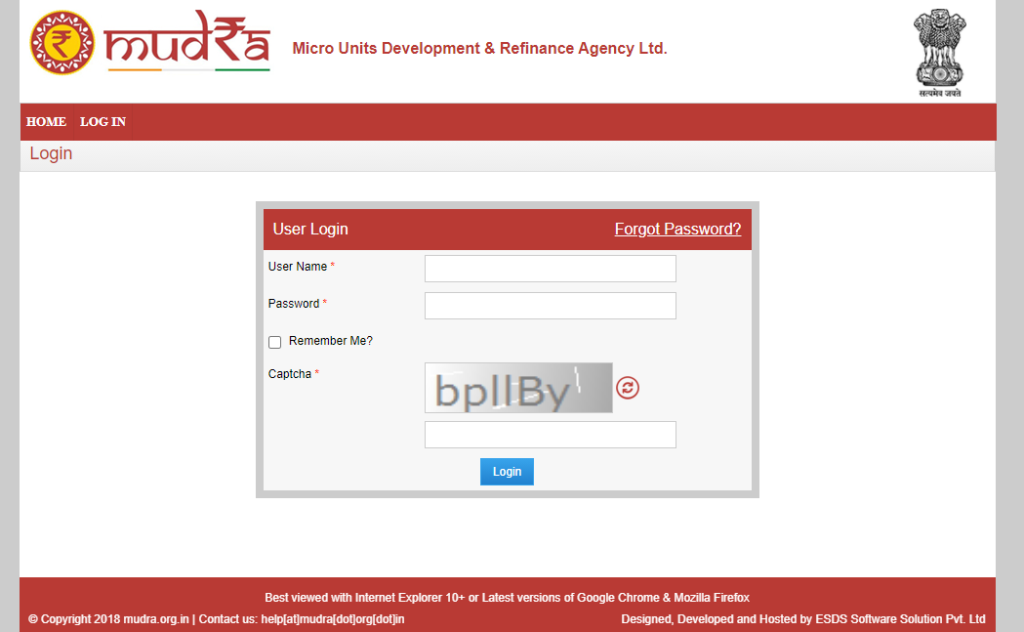 Now a new page will appear in front of you in which you supposed to enter your captcha code, username, and password.
 Now you supposed to press on the login button.
 This is how you will be able to login to the PMMY portal.
 How to apply in PMMY Loan Scheme 2021?
Under this yojana, the interested beneficiaries who need to apply to get the loan do apply with all their certificates in their nearest commercial. bank, rural bank, private bank and government bank etc.
 After this, go to the bank from which you need to take loan and fill up the application form.
 And fill the form and attach it with all your certificates and submit it to the bank official.
 After verifying all your certificates, the bank will provide you the loan within 1 month.
 Documents for Mudra Loan
People initiating tiny business and who need to progress their small business do also apply for loan under this PMMY Loan Plan 2021.
Borrower age should not be less than 18 years.
In any bank, Applicant should not be defaulter
Aadhar card
pan card
Permanent Address of Application
Proof of Establishment and Business Address
Balance Sheet of last three years
Income Tax Returns and Self Tax Returns
Passport size photo
 Advantages
Any individual in the nation who need to initiate his own tiny business do take loan under this scheme.
Under this yojana, the country citizens will be provided loans without guarantee to begin their business. Except this, no processing charge is charged for the loan. The loan repayment time under PMMY can be extended up to 5 years.
The borrower do get a Mudra card, with the support of which the expenditure on business requirements can be met.
Sectors covered
To enlarge coverage of tailor items and beneficiaries to meet needs of particular business activities, sector / activity focused yojanas will be rolled out. To initiate with, based on great focus of businesses in some activities / sectors, plans are proposed for:
Land Transport Sector / Activity – Which will inter alia support units for purchase of transport vehicles for personal and goods transport such as taxis, e-rickshaw, passenger cars, small goods transport vehicle, 3 wheelers, auto rickshaw etc.
Community, Personal and social Service Activities – Such as Courier Agents, tailoring shops, beauty parlours, dry cleaning, Medicine shops, gymnasium, cycle and motorcycle repair shop, Photocopying and DTP Facilities, boutiques, Saloons, etc.
Food Products Sector – Support would be accessible for undertaking activities such as jam / jelly making, achaar making, papad making, sweet shops, agricultural produce preservation at rural pond, tiny service food stalls and canteen services/day to day catering, ice cream making units, cold storages, , cold chain vehicles, bun, biscuit, and bread making, etc.
Textile Products Sector / Activity – To offer support for undertaking activities such as chikan work, traditional embroidery, handloom, zardozi and zari work, power loom and hand work, printing and traditional dyeing, cotton ginning, knitting, apparel design, stitching, computerized embroidery and other textile non garment items such as furnishing accessories, bags, and vehicle accessories, etc.
How to apply
Borrowers, who desire to avail assistance under PMMY, do approach the local branch of any of the financial institutions in their region – Cooperative Banks, PSU Banks, and Regional Foreign Banks, Private Sector Banks, Rural Banks, Non Banking Finance Companies and Micro Finance Institutions.
 Note : For all PMMY schemes, the things supposed to be noted.
No processing fee
No collateral
Repayment timeline of loan is extended up to 5 years
Candidate must not be defaulter of any Bank / Financial Institution
List of Businesses covered under PMMY Scheme
Businesses List that comes under the PMMY plan to carry out income-generating activities are given here:-
Commercial Vehicle: Mudra finance for equipment and machinery can be utilized to purchase commercial transport vehicles like trollies, e-rickshaws, 3-wheelers, goods transports vehicles, tractors, tillers, taxis, auto-rickshaws, etc.
Service Sector Activities: Begin businesses of tailoring shops, repair shops, salons, medical shops, gyms, and photocopying shops and dry cleaning, etc.
Food Product Sector and Textile Activities: Various activities involved in the sector, such as biscuits, jelly, sweets making, papad, jam, achaar, and ice cream.
Business activities for Shopkeepers and Traders: Setting up service enterprises, shops, business and trading activities, and non-farm income-creating activities
Equipment Finance yojana for Micro Units: Maximum loan up to Rs. 10 lakh
Agri-allied Activities: Activities associated to businesses in agribusiness centers and agri-clinics, pisciculture, food and agro-processing units, sorting, grading, poultry farming, livestock-rearing, beekeeping, dairy, fishery, aggregation, agro-industries, etc.
Please follow and like us: