About the Startup India Seed Fund Scheme (SISFS)

Aim:To offer financial assistance to startups for product trials, proof of concept, prototype development, commercialization and market entry.
Launched by:Department for Promotion of Industry and Internal Trade (DPIIT) with an cost of Rs. 945 Crore.
Some Eligibility Conditions

A startup, acknowledged by DPIIT, integrated not more than 2 years agoat the time of application.
Startups must not have received more than Rs. 10 lakh of monetary helpunder any other State or Central Government program.
Features

It will help an estimated 3,600 entrepreneurs through 300 institutions that help entreperneurs to help their business(incubotors) in the next 4 years.
An Experts Advisory Committee (EAC),will be in charge for the overall monitoring and execution of the Scheme.
Grants of upto Rs. 5 crore will be given to the eligible incubators choosen by the committee.
The selected incubators will given grants of up to Rs. 20 lakh for prototype development or validation of proof of concept, or startups to product trials.
Investments of up to Rs. 50 lakh will be offered to the startups for commercialization, market entry, or scaling up through debt-linked instruments or convertible debentures.
Expected Benefit
It will support in developing a robust startup ecosystem in Tier 2 and 3 regions,as the smaller places in our country are often not given with appropriate funding.
About Startup India Initiative

It envisages establishment of a robust Startup ecosystem in the nationfor providing opportunities and nurturing innovation to budding entrepreneurs. It was launched in 2016.
The action planof this initiative concentrate on following three areas:

Handholding and Simplification.
Incentives and Funding Support.
Incubation and Industry-Academia Partnership.
Related Government Initiatives
Startup Innovation Challenges:It is a remarkable opportunity for any startup to grasp their fund-raising and networking efforts.
National Startup Awards:It seeks to reward and recognize outstanding startups and ecosystem enablers that are giving to economic dynamism by injecting competition and spurring innovation.
Ranking of States on Support to Startup Ecosystems:It is an progressed evaluation tool aimed to build up the support of States and UTs to holistically construct their startup ecosystems.
SCO Startup Forum:The first-ever Shanghai Cooperation Organisation (SCO) Startup Forum was set up in October 2020 to improve and develop startup ecosystems collectively.
Prarambh:The Prarambh Summit aims to offer a platform to the startups and young brains from around the globe to come with new invention, ideas, and innovation.
Eligibility Criteria for Startups
It must be acknowledged by DPIIT.
The establishment of the business must not be more than 2 years old.
The startup must be fit as per the Indian markets and a service provider or particular product.
The enterprise should be a technology user. Also, its distribution model and business should be regulated and predetermined.
Under Startup Scheme Education, Social Impact, Water Management, waste Management, Financial Inclusion, Biotechnology, Food Processing, Agriculture, Mobility, Energy, Healthcare, Defense, Space, Railways, Oil & Gas, Textiles, etc. Enterprises related with the sectors are included.
Startups already getting loans under any other program will not get the gain of this scheme.
As per the Companies Act, the stake in startups with an Indian incubator must be at least 51% to get the program benefits.
Eligibility Criteria for Incubators
Incubators must be registered under one of the Companies Act 2013, Indian Trusts Act 1882, Companies Act 1956, Societies Registration Act 1860 to join the Startup India Fund program.
Candidate incubator business should be running for at least 2 years or more.
Incubators must have a seating capacity of at least 25 persons.
Incubators should have at least 5 startups related at the time of application.
Incubators must have a full-time Chief Executive Office, experienced in entrepreneurship capable and responsible team and business development.
The incubator must be assisted by the state or central government.
How to apply online for SISFS Form 2021
For Incubators
Step 1- Go through the Official Website of Scheme i.e. seedfund.startupindia.gov.in.

Step 2- On the Homepage, select the Option Apply Now link under a menu option.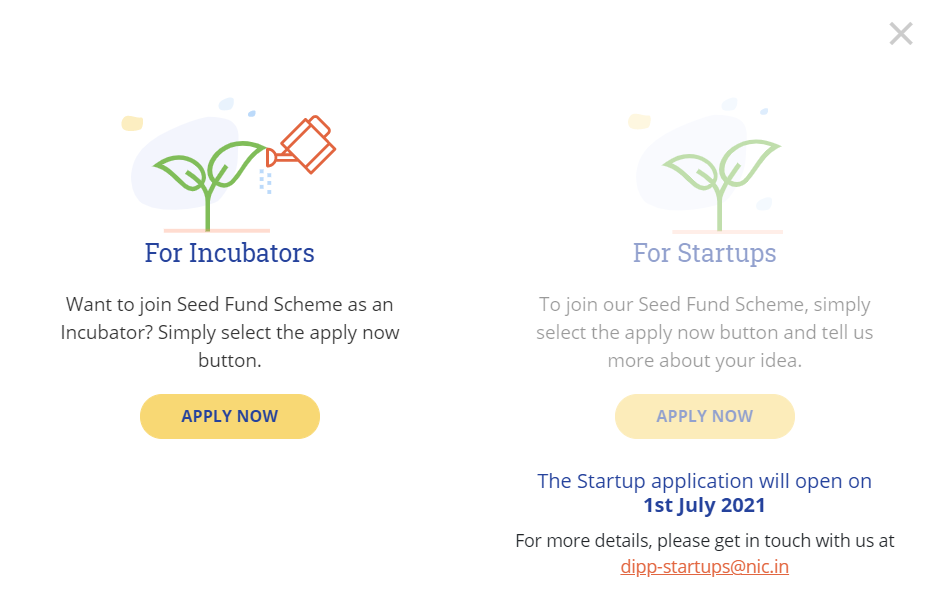 Step 3- After that, you have to hit on apply now under for incubator section and hit on create an account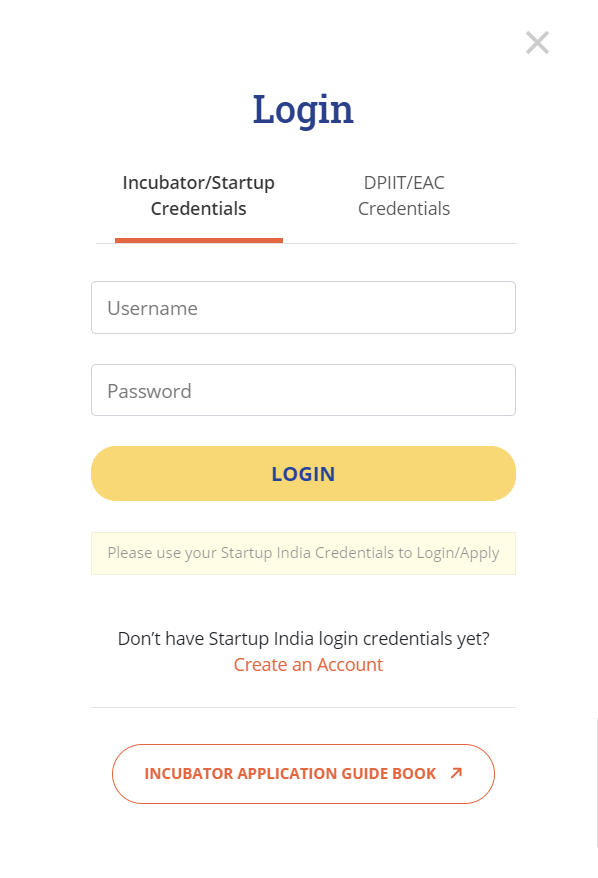 Step 4- The Registration Form page will be visible on the screen.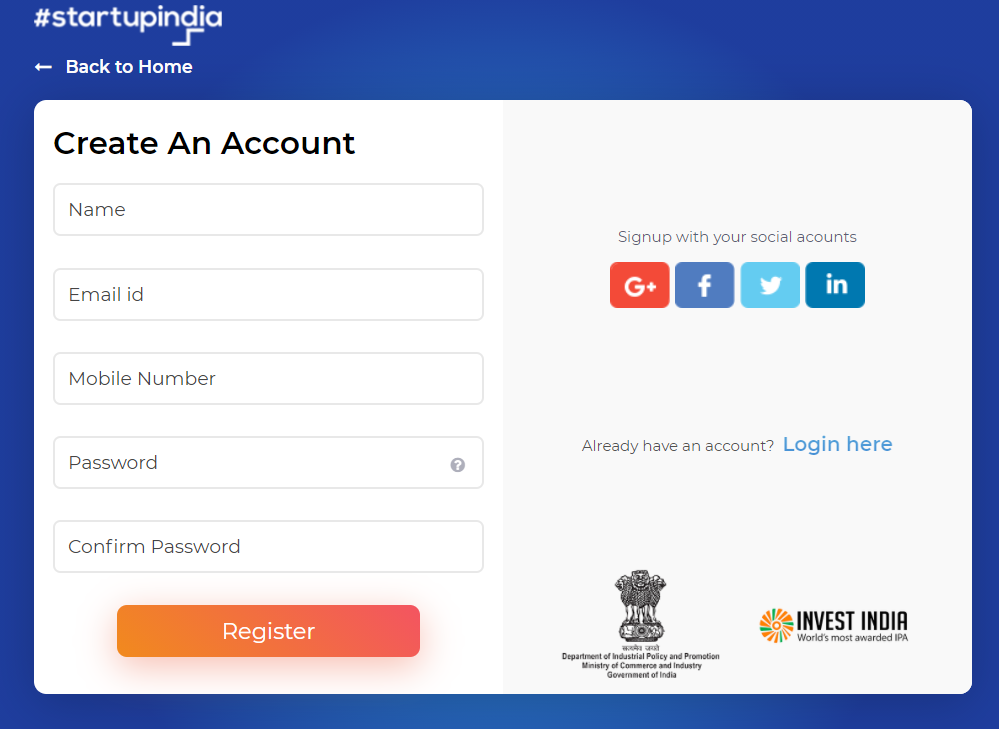 Step 5- Now, you have to enter your password, name, email address, and mobile number
Step 6- After that, you have to hit on the register button and an OTP will address to your registered ID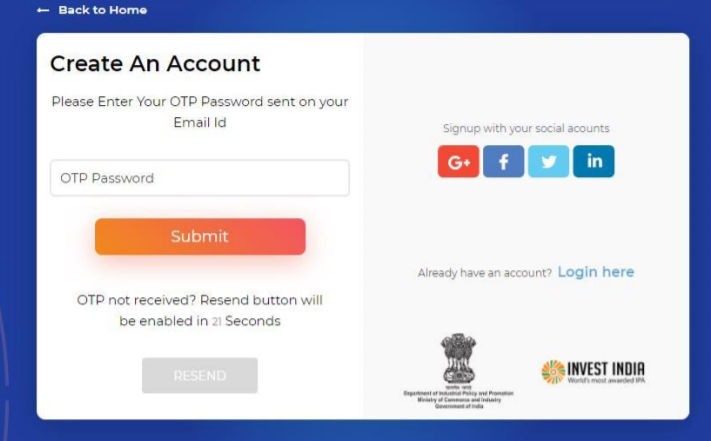 Step 7- You have to enter the OTP into the OTP box and hit on submit button. It will divert to Startup India Portal.
Step 8- After that, you have to hit on the login option
Step 9- Enter your Password and Username. Hit on Login After the Robot Verification. It will divert you to StartUp India Persona Page.
Step 10- Select the Country and hit on the Incubator Box. Hit Next Button below which will divert you to incubator details form.
Step 11- The Application form will present on the screen.
Step 12- You suppose to enter your success stories, point of contact info, contact info, and basic info in this application form
Step 13- After that, you have to hit on save profile
Step 14- Now your profile will get off to a moderator for approval
Step 15- Again You have to login on to the portal
Step 16- Now you have to hit on apply now under the seed fund program
Step 17- The Application form will be appear on the screen.
Step 18- You have to enter all the required information in this application form like fund requirement details, incubator support detail, incubator team detail, general detail etc
Step 19- After that, you have to upload all the important documents
Step 20- Now you have to hit on submit
Step 21- By following this method, you can apply under the startup India seed funds program
Please follow and like us: