This plan will help in lessening the percentage of child marriage in the state. This plan aims to assist the families of unmarried womens in the state. Under this plan, the vulnerable beneficiaries will get financial helping hand of Rupees 15000 to Rupees 21000. Moreover, the government has also make clear that it has pay out Rupees 39 Crores to around 19000 girls or women in the Punjab state.
Highlights of Aashirwad Scheme Punjab
The beneficiary of the plan would include women belong to the Punjab state only.
Accordingly, those candidates who need financial helping hand on marriage do apply online at punjab.gov.in
Only those womens who are above 18 years of age do fill this application form/plan registration.
The state govt. will pass on payment directly into beneficiaries bank account.
Document for Aashirwad Scheme
The people who need this financial support will have to provided some significant documents for verification. The list of document is given here :
Initially you have to give your residential proof, identification proof and this can be your Aadhar Card.
Cast Certificate of candidate ( as this program set up mainly for the SC girls in the state).
Income Certificate ( as this financial aid will be given to needy and beggar families ).
Age proof of girl (10th mark sheet or birth Certificate). This step will assist to lessen child marriages in state.
income certificate Copy attested by gazztted officer
Bank account number of candidate as cash will be directly pass on to the Beneficiaries accounts.
A passport size photograph of candidate must attested by gazztted officer.
Candidate registered Mobile Number
Eligibility Criteria for the Ashirwad Scheme Punjab
Only female applicants of State of Punjab are eligible to take profits of this program.
Female applicants of scheduled caste and beggar families will get profits of this plan.
Girl's applicants who require to take financial helping hand for their marriage must be above 18 years.
Applicants who are under 18 will not get gain of this plan.
Benefits of Ashirwad Scheme
Under this program, financial assistance of Rs. 15,000 to 21,000 will be provided to the family for the girl wedding.
With the announcement of this plan, now the child marriage cases in the Punjab will be lessen. As this financial assistance will be only offered to those girls who has meet and crossed up their age above 18 years.
It will lessen the feticide in our nation. As we all identify that individuals take girl child as load and they do kill their girl child before they come in this world.
Ashirwad Scheme Punjab Application Form
Firstly visit official website of the department Women and child development www.punjab.gov.in
On home page two option will appear, initial one is login and other one is new user.
If you have already registered in this portal you have to login and if you have not registered in this website you have to click on new user button.
After clicking on it, it will ask some essential details and after filling all essential details, your Password and User Id will be generated.
Then go back on Home Page and select on login button.
Enter your password and login ID and captcha in box given below.
After login you will be able to see all plans of government in the home page of portal.
Then you have to select on option Click here to fill up the application form.
Then Application form will be visible in front of you.
Fill this form with all essential details such as Your Name, Aadhar Number, Age, , Mother Name, Father's Name and other important details etc.
After filling form, do attach all significant documents scanned copies in the application form.
Now after verification all information, click on submit button.
After submission, you will get a confirmation message to the registered mobile number.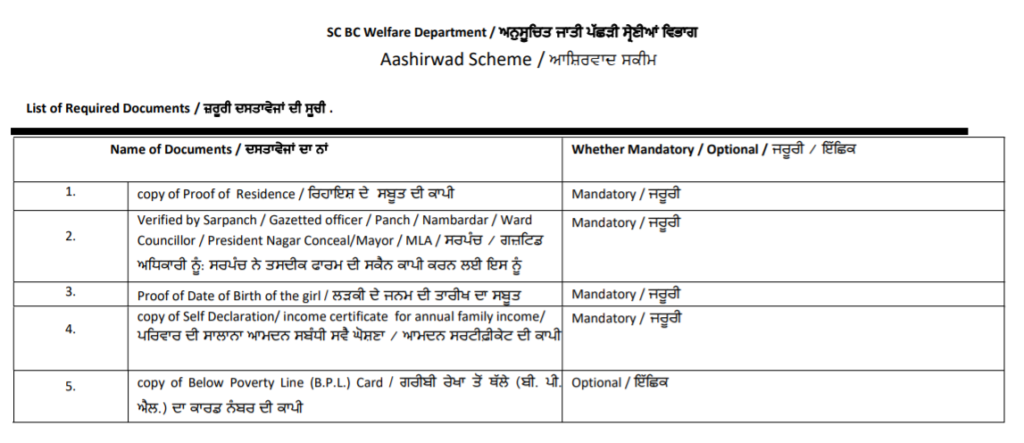 Offline Application procedure
Visit the official website of the department www.punjab.gov.in.
On home page you will explore numerous plans, click on Ashirwad Scheme and pdf file, download application form of Ashirwad Scheme.
Take a printout of this form and fill this form with all essential information.
Enter the Name of Bride, Address, Date of Birth, gender, Pin Code and District.
On the application form, then Paste a self-attested photography.
Enter email address and phone number of candidate and answer out all the questions asked in the form.
Now attach all necessary documents such as income certificate, caste certificate and keep the signature in the bottom of the form.
Now after self-verification, submit the application form in Concerned department.
Process to Apply Under Punjab Ashirwad Scheme
All the interested candidates who require to apply under Ashirwad Scheme will have to follow the steps given here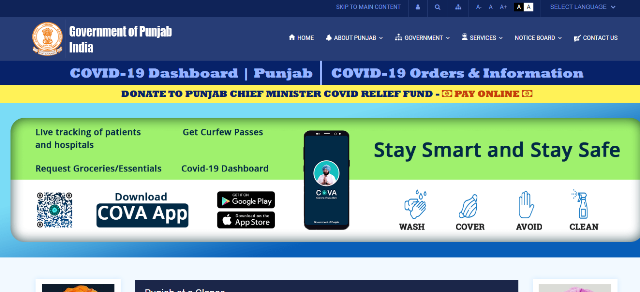 The home page will be visible in front of you
look under the section of Services On the homepage
Now do click on the Forms option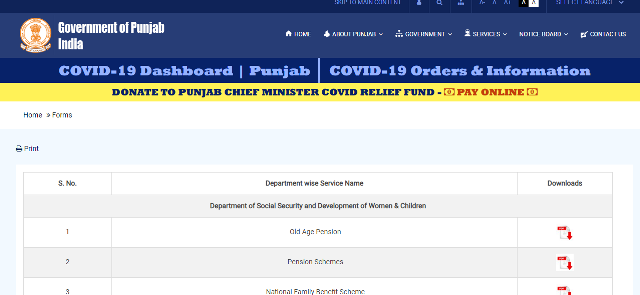 The list of forms will come in front of you
Do click the Ashirwad Scheme option
The PDF form of this paln will appear in front of you.
take a printout after Downloading the form.
attach all the necessary documents and fill the form carefully
After attaching the paper work, submit it to the concerned department
Helpline Number of Ashirwad Scheme
If you have any complaint or suggestion or question, you can email us or contact us number given below :
Helpline Number: 8968593812, 8968593813
E-mail Address: [email protected]
What is the financial assistance which will be provided to Beneficiaries?
The financial assistance of Rs. 15,000 to 20,000 will be offered by Punjab Government.
What was the old Name of This program ?
The old name of this Ashirwad Scheme was Shagun Scheme.
Where can individuals apply for this scheme ?
Individuals do apply for this program on official website of department which is www.punjab.gov.in.
Please follow and like us: