This book (chetan bhagat five point someone) narrates the tale of three IIT grads and their life chain at India's Premier Institute. The narrative is all about their differences and friendship, enjoyment and study, ambition and career, peer pressure and parental pressure, love. And as the subtitle of the book – What to do at IIT – suggests, "This is not a novel to teach you how to fix yourself into IIT or even how to dive into college. In fact, it describes how screwed up matters might get if you don't think straight way.
Title of the book Five point some one is take out form GPA system mostly used in IIT structure. In the ranking system, five points are perceived average rank.
Ryan, Hari, and Alok are three main five point someone character. They are studying and roommates in the same department at IIT. These three students became close buds after a ragging session by seniors and they stand up to each other during the all four years at IIT to every occasion, despite several issues and their personal conflicts. They are far from the sweet image of an IIT grad and is generally recognized to be and more similar as an average middle class youth.
In the book Hari narrates the storyline. He is pretty average in study, seems chaotic but he keeps all three buds together, always take the easy way out, deeply fall in love with the daughter of head of the department.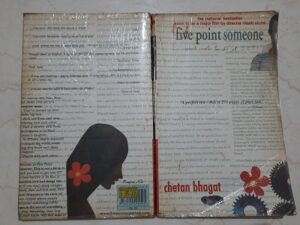 Ryan is son of rich family, a born rebellion. He hates his parents, as he feels fail to look after by them. He needs to be innovator and he thinks that the IIT pattern puts obstacle in one's innovation.
Alok link to a typical low Indian middle class family, burdened with lots of responsibility and expectations. He require to get good GPA so that he might get a great job and support his family hierarchy. This makes him some days selfish.
They found themselves stuck in IIT pond. They get bored with projects, study, and assignments and needed to fun the life and have enjoyment to its fullest. This leads to their lower GPA in class exams and quiz. They run to rank hardly 5 points GPA at a scale of 10, secure near the end of their class. And this denotes the end of their bright career.
The tale explain the ups and downs of their lifecycle in campus. Their motion on scoring low GPA in the class, how they are distinguished by professors and students on the principle of their conflicts, their affection, their GPA, their strategy and their drinking habit to beat the system.
Meanwhile Hari fell into an relationship with Neha, daughter of his head of department, Professor Cherian. When these three buds were in a great problems, they found another professor Veera. He keeps confidence on his student and influence them to act and think differently. He become the mentor of the three buddies and helps them when they wanted most.
When the three buds noticed that their future line is at the stake they do make a plan to theft the exam paper from his professor's office. What come about to their plan? What occurred to their dream and career? Would Hari have potential to get married with Neha? Would Ryan achieve success in his innovation? Would Alok lived up to the belief of his family?
Please follow and like us: