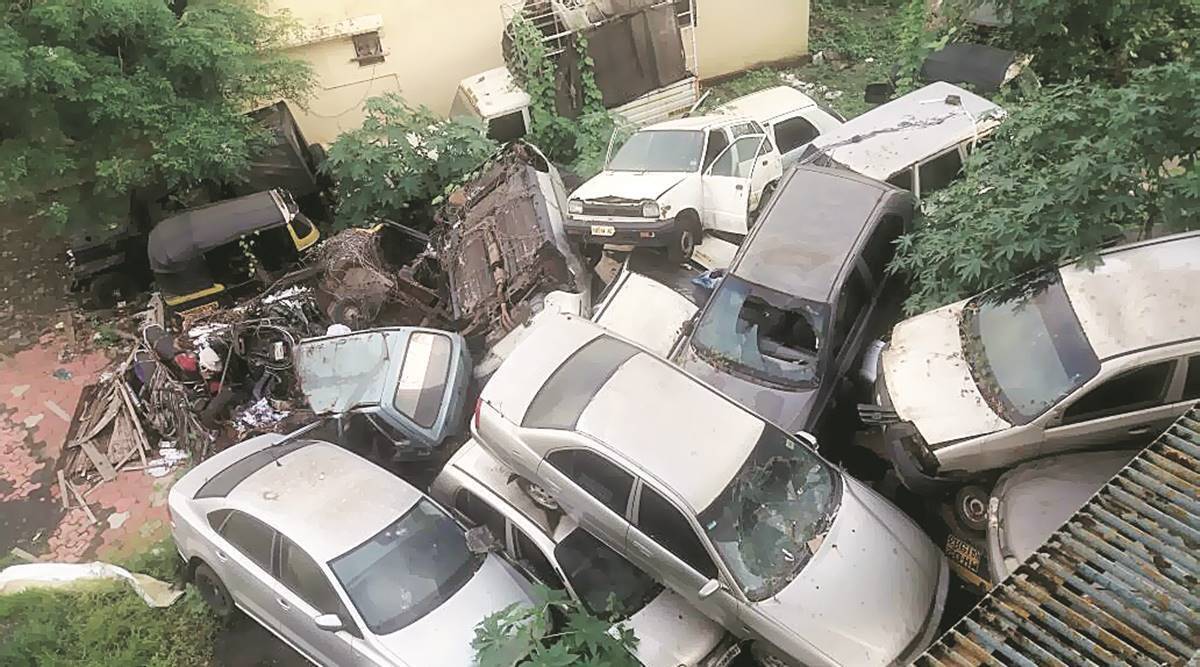 Purpose of Vehicle Scrappage Policy 2021
This Policy goal is to bring out of condition vehicles from roads of India.
Its goal to lessen harmful effects of emissions by unfit and old Vehicles whether they are commercial or private.
This Policy will involve all types of vehicles like Taxi, Passenger, Commercial purpose vehicles also.
New start ups will come up to execute this policy in the Investors Summit of Gujarat.
Its goal is to bring out sustainable development in India.
Vehicles will be discarded in a very scientific and nature friendly way.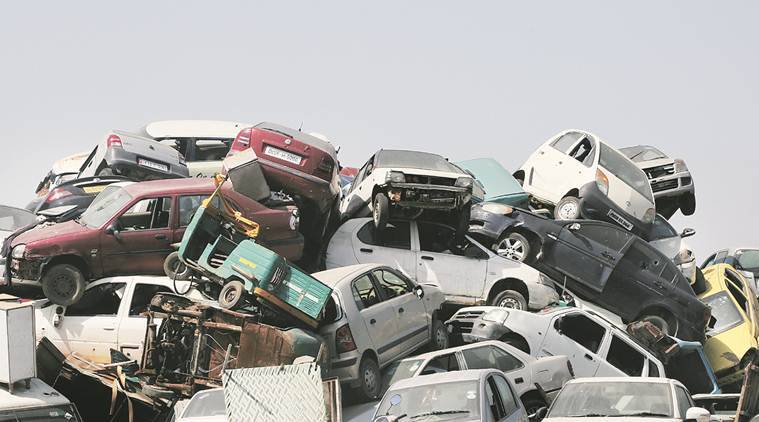 Benefits of Vehicle Scrappage Policy
Owners, who will decide to throw away their vehicles under this structure, will be given incentives in order to buy new vehicles.
The value of the early showroom price will be provided to the owner from 4 to 6 percent at the time of vehicle scrapping.
If you will throw away your old vehicle and will buy a new one, you will get a refund of 25% on the road tax which is pretty stunning. The percentage is 15% for commercial vehicles,
Moreover, only given to those who are having the scrapping certificate as you will get a discount of 5% on the purchase of your new vehicle.
Vehicle Scrappage Policy 2021 Environmental Benefits
In this Policy, all the unfit vehicles in the country will be transformed to scrap in a pretty scientific way.
Owners of Vehicle will be given extra benefit in the form of cash incentive which will be 5-6% Value of Showroom Price.
In the Investor Summit being held in Gujarat, many start-ups will come up to setup Scrapyard to transform unfit vehicles into scrap.
This will lead to pretty slight emissions of harmful gases like carbon Monoxide.
Vehicle Scrappage Policy – 2021
Process: –
A Vehicle older than 20 years, if found out of condition or registration certificate is not renewed, will be De-registered
Registered owners to deliver such vehicles to a Registered Vehicle Scrapping Facility with their Pandetails, registration certificate, Certificate of the vehicles and other documents.
Scrapper need to check vehicles records from database of the Stolen vehicles and then he will issue a Deposit certificate, required for the vehicle owner to get incentives
The Certificate once used will be printed "Cancelled" by the agency
Government will build a Database of the vehicles scrapped every year.
Financial incentives: –
Scrap value: Scrapping centre will provide scrap amount upto 4-6% of the price of ex-showroom for the new vehicle to the vehicle owner.
On the purchase of a new vehicle, Vehicle Manufacturers are directed to give 5% discount against the scrapping certificate.
For road tax, it is recommended by State governments that they will offer of up to 15% for commercial vehicles and up to 25% for personal vehicles.
To purchase new vehicle, Registration fees will be waived off against the scrapping certificate.
Scrapping centres: –
Inspire private and public participation in opening Registered Vehicle Scrapping Facility (RVSF).
Inspire setting up of Automated Fitness Centres on a PPP model by automobile companies, state government, private sector, etc.
Registration and fitness tests: –
As per the Central Motor Vehicle Rules, 1989, Criteria to determine vehicle fitness will foremost be braking, emission tests, and safety equipment, among many other tests.
Guidelines for fitness tests and scrapping centres to be eligible from October 1, 2021, while scrapping of PSU vehicles and government which are older than 15 years to come into effect from April 1, 2022.
The compulsory fitness testing for heavy commercial vehicles to be active from April 1, 2023, and the similar will be in place in a phased manner for other categories from June 1, 2024.
fees for fitness certificate is increased and for commercial vehicles as they need to clear the test above 15 years from the date of initial registration and in case they fail to obtain the fitness certificate, then these kind of vehicles will be de-registered.
Also reneweal fees is increased for private vehicles above 15 years from the date of initial registration. These vehicles fail to obtain renewal of RC after 20 years if found not in good condition or in case of a failure to renew the registration certificate.
A vehicle failing to get registration certificate renewal or failing the fitness test to be declared as 'End of Life Vehicle'.
Significance: –
Creation of Scrap yards: It will lead to creation for more scrap yards in the nation and effective recovery of waste from old vehicles.
Employment: In the new fitness centers, an investment of Rs 10,000 crores will be pumped in and 35 thousand individuals will get employment too.
Improved Revenue: This will boost sales of medium and heavy commercial vehicles. The government income through GST is expected to increase from Rs 40,000 to 60,000 crores from this policy.
Fall in Prices: Prices of auto components would reduce substantially with the recycling of plastic and metal parts. As scrapped materials will get low-priced, the production cost of the vehicle manufacturers will also fall.
Reduce Pollution: It will support improve reduce pollution and fuel efficiency. As older vehicles pollute the environment 15 times more, and estimated that 17 lakh heavy and medium commercial vehicles are more than 15 years old.
Incentive Program under Vehicle Scrappage Policy 2021
4-5% Showroom price will be provided as cash return.
Tax rebate will also be provided upto 25% for new vehicle registration.
Commercial shop owners and vehicle dealers also offer some discounts after showing scrappage certificates of Old Vehicles.
Is that all vehicles which are ahead of the limit will be scrapped?
No this policy will not inplicited on all vehicles, for the commercial vehicles, the age limit is 10 years and for personal vehicles, the age limit is of 15 years.
After the vehicles' on road time limit turn off, the vehicle requires to go through a fitness test which will display if a vehicle is alright to walk on the road or not.
If the vehicle provided a passed certificate, then it definitely walk on the road afterwards, but if it does not provided the passed certificate, then that vehicle will no longer walk on the road.
After offering the passed certificate, the vehicle require to go through this fitness test after every 5 years.
If your vehicle is not getting a passed certificate, then you have to dispose your vehicle as it becomes unable to walk on the road.
| | |
| --- | --- |
| Policy | Vehicle Scrappage Policy |
| Ministry | Ministry of Road Transport and Highways |
| Under | Central Government of India |
| Check | Vehicle Scrappage Policy Scheme Details |
| Official portal | morth.nic.in |
| Get | Vehicle Scrappage Policy pdf in Hindi |
What would be the official website to check on the details of Vehicle Scrappage Policy?
You do go through morth.nic.in and check all the information about Vehicle Scrappage Policy.
Under Vehicle Scrappage Policy 2021, will I get a certificate of discarding my Vehicle?
Yes, under Vehicle Scrappage Policy 2021, you will get a certificate to get extra benefit for Authorized Vehicle Scrappage Facility (AVSF).
What is new vehicle scrap policy?
The purpose of this is simply to recycle and phase out old vehicles through a structured process. The ideal aim of the policy is to lessen environmental pollution caused by older vehicles that are running without a valid fitness certificate and have surpassed their lifecycle.
After 15 years, how do I re register my car?
• A rightly filled in application of Form 25.
• Vehicle original registration certificate.
• Proof of payment to reveal that road tax is lack of tax dues and up-to-date.
• An attested copy of the pollution control and insurance certificates.
• Re-registration fee, as advised by the State authority.
• PAN card attested copy . If you are not having a Permanent Account Number, fill in the relevant declaration, familiar as Form 60 or Form 61.
How can I extend my cars RC validity?
You do apply for the renewal of RC using Form 25. The form can either be obtained from the RTO or downloaded. Fill up the form and do submit the original RC book along with the necessary paper work to the designated jurisdiction under whose authority the vehicle falls.
How can I improve my car's RC validity?
1. Form 25: Duly filled up.
2. Original Registration Certificate.
3. Pollution Certificate.
4. Valid Insurance Certificate.
5. Before the registering authority for inspection, Vehicle is then to be produced.
6. Re-registration Fee supposed to be paid at the cash counter and receipt for the same will be provided.
Can I buy 20 years old car?
cars that are twenty years old will surely be in nice pretty condition, so long as the car spent its life in a salt free state and was much maintained and garaged. … Yes, for sure you can utilize a twenty year old car as a daily driver, but you'll need to pay attention to some zones, they might need work.
Is vehicle scrappage policy mandatory?
Renewal of fitness certificate annually is needed for a commercial vehicle once it is older than eight years as per the motor vehicle law
What is a Vehicle Registration Certificate (VRC)?
The Registration Certificate of a vehicle supposed to be accurate. The RC is an official paper work giving proof of the vehicle's registration with the Regional Transport Office (RTO). Now, RC is available in Smart card type in which through chip all information about the vehicle can be easily obtained, as and when needed..
The registration certificate is proof of the ownership of a vehicle and can also be utilized for the re-registration, transaction, and renewal of a vehicle.
As per Government of India, every vehicle owner must have a valid RC to drive the vehicle on Indian Roads. You require to take care not to fall unfair of the law and drive a vehicle with a logical RC.
Do I require to take my vehicle to the RTO?
Yes, you will require that thing as where it was originally registered. The RTO authorities do check if your vehicle is roadworthy and will instruct out renewal for other five years.
RC renewal documents
You will require to submit the paper work at the time of application for renewal:
Do get Form 25 and fill in the necessary information:
• From a government recognized PUC check center, Pollution Under Control certificate.
• RC book,The original RC, or smart card
• vehicle valid insurance policy
• PAN card copy of the vehicle owner or other required documentation
• Chassis and Engine pencil print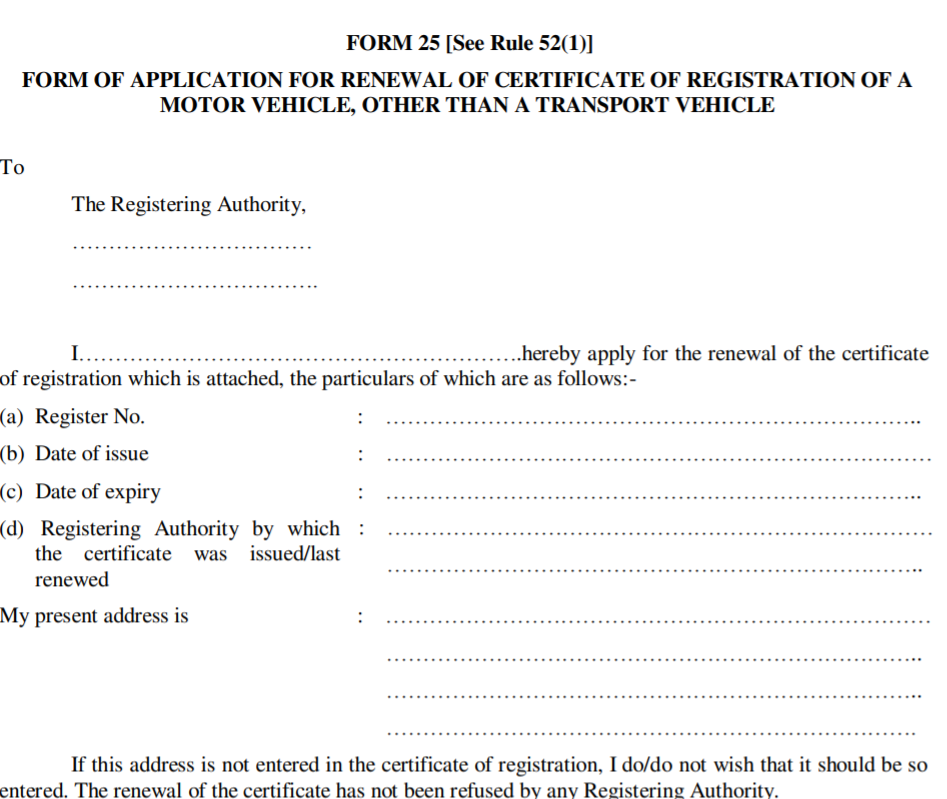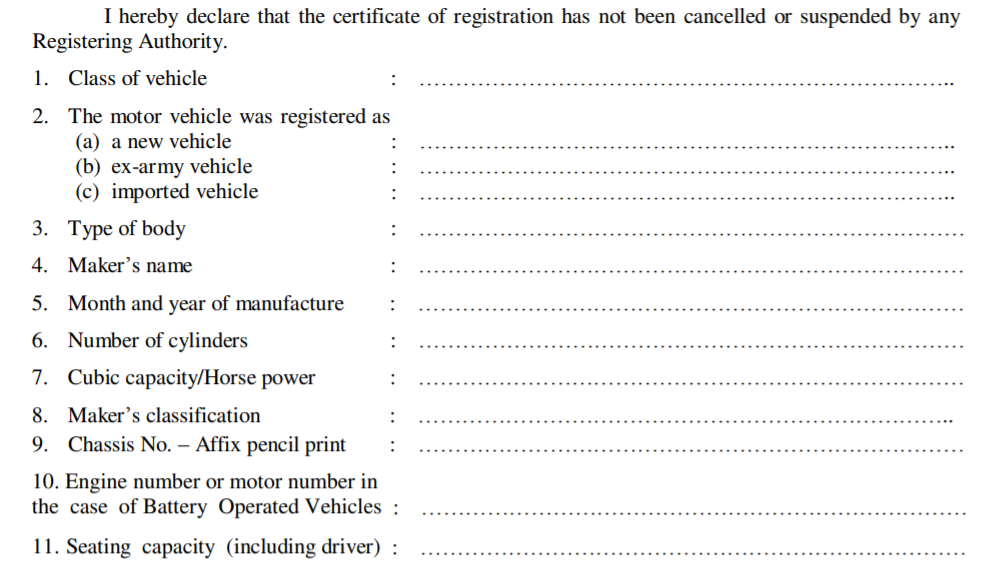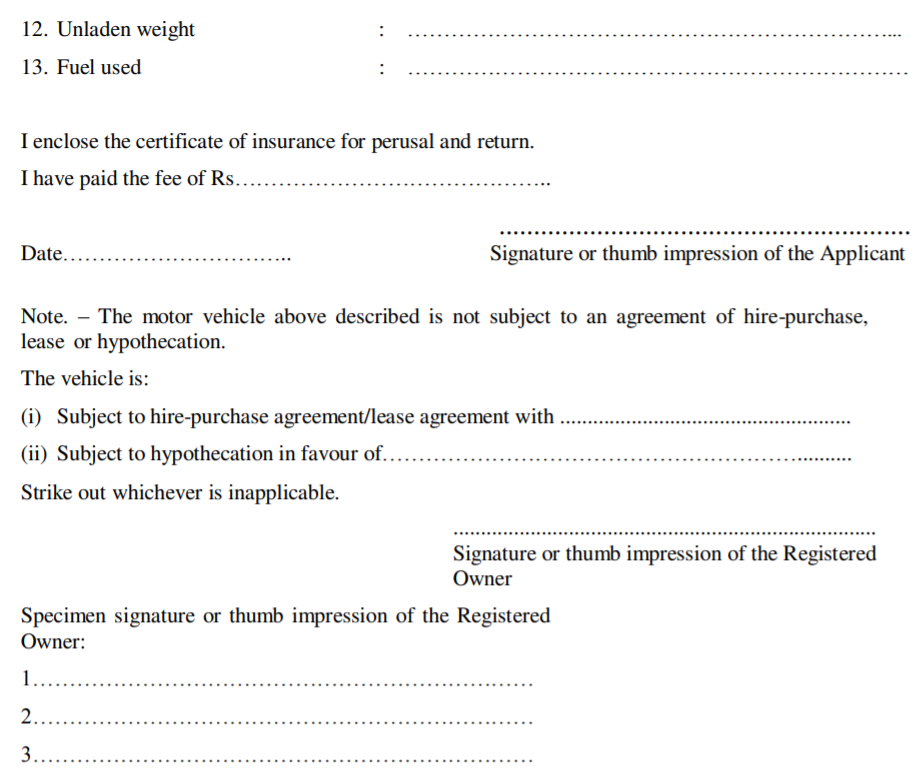 Please follow and like us: