Government of Punjab is going to begin program 2021 for unemployed youngsters. Under this Yojana, the state government will offer subsidy on purchase of vehicles. The main purpose is to develop self employment or Rojgar opportunities to enable youth to earn their livelihood. All the jobless yougsters can now benefit subsidy on loans for buying of 4 wheelers / 3 wheelers vehicles.
Subsidy Profits for Jobless Yougsters for Punjab Apni Gaddi Apna Rojgar Scheme
The Punjab state government will offer subsidy for 3/4 wheelers in the following manner to unemployed youth:-
4 Wheelers – 15% of 4 tyre vehicle "On Road" or rs.75,000 (whatever among is less).
3 Wheelers – 15% of gross price of 3 tyre vehicle "On Road" or rs.50,000 (whatever among is less).
15% of the total/gross cost is to be paid by the non-job applicant.
The rest of the price will be as per scheme financed by state cooperative Bank of Punjab.
Eligibility basis Apni Gaddi Apna Rozgar Scheme
The applicants should follow the given eligibility criteria for subsidy under the Scheme 2021:-
The age of the candidate should lie between 21 to 45 years.
Candidate must own valid driving license for commercial 3 wheelers or 4 wheelers vehicles.
Candidate should be a district resident where the application has been submitted.
Highlights of Apni Gaddi Apna Rozgar Yojana
Commercial vehicles and 1 Lakh taxis per year at subsidized rates.
5 year repayment period and No collateral for loan.
Tie-up with Uber and Ola taxi operators.
Reconstruction of 22 district transport offices.
Services of the four RTA offices at Jalandhar, Patiala, Bathinda and Ferozepur.
Completely transparent method for allocation of permits.
Through online portal SAARTHI as applications for driving license to be invited.
Through VAAHAN web portal as Vehicle registrations to go online.
Apni Gaddi Apna Rozgar Yojana Registration
Educational Qualification
For 8th pass applicants
20 marks
for Graduation Pass Applicant- 35 marks
for 12th pass applicant- 30 marks
for 10th pass applicant- 25 marks
| | |
| --- | --- |
| Yojana | Apni Gaddi Apna Rozgar Yojana |
| Department | Employment Generatation & Training |
| Under | State Government of Punjab |
| Registration | Apni Gaddi Apna Rojgar Yojana Form 2021 |
| Official portal | pbemployment.punjab.gov.in |
| State | Punjab |
| Check online | Punjab AGAR Application Form 2021 |
Driving Experience
License holding period
20 Marks- For Zero to 3 Years' Time
30 marks-6 years to 9 years
25 marks-3 years to 6 years
30 marks-For Interview
35 marks-For more than 9 years
Benefits Apni Gaddi Apa Rojgar Yojana
Under this scheme, the youth who apply will be given a subsidy to support them purchase a vehicle for their new organization. His subsidy will be in the form of a loan from a cooperative bank, which will be accessible to him.
The state government would provide them with financial support in the form of a subsidy in order for them to purchase four -wheelers or three-wheelers.
Unemployed youth will be able to purchase a vehicle at a inexpensive loan rate and utilize it to go to work under the terms of this scheme.
Unemployed youth will be allowed to explore work as a result of the execution of this scheme.
Form online of Punjab Apni Gaddi Apna Rojgar
The registered applicant will be in charge for 15 percent of the total cost of attendance.
The government of Punjab will establish a cooperative bank to give out the remainder of the funds to the youngsters.
Youth from different socioeconomic backgrounds are permitted to apply for this scheme.
Candidates that fall into the economically disadvantaged group will be allowed for a 30 percent loan.
Youth will be authorized to set up their businesses to carry out their jobs and create a sense of self-reliance.
Those under the age of thirty will be motivated to begin their own organization.
The profit of this scheme is accessible exclusively to inhabitants of Punjab; citizens of other states are not accessible to take advantage of or apply for any of the profits offered by the program.
Youngster's individuals between the ages of 21 and 45 years old are permitted to submit an application.
Ownership of a valid driver's license is a must for all candidates.
The applicant should have a minimum educational parameter of class 8th in order to be considered.
Under the scheme, the applicant will be selected on the basis of the level of education they have received.
Required Documents
domicile identity card
Candidate Aadhar card
driving license
class passing certificate
caste certificate
Birth certificate
mobile number
bank account
Application Form Apni Gaddi Apna Rojgar
How to Apply
In order to profit from the program, young youth from throughout the punjab will require to apply via the program.
Follow the submission of an application, the scheme will be accessible to all jobless people. The youngster age must be between 21 and 45 years old if they need to drive a four -wheeler or three-wheeler vehicle.
This is an necessary program for young youth who need to buy cars for self-employment.
The Apni Gaddi Apna Rojgar plan has been launched in various cities across the Punjab state. In which the names of these cities have been selected as the initial focus.
Mohali and Fatehgarh Sahib are situated in the Patiala, Amritsar, Ludhiana, and Ropar clusters, among other places. In the state, a pilot project has been set up to test the workability of the scheme.
The district committee will select the beneficiaries who have applied for the program in charge of the zone where they live.
Candidates are needed to get an online application form for the plan. However, the government of Punjab has not yet published a detailed application method for the scheme.
In order to register for the scheme, candidates may require to visit to the official website and look out for the online registration link.
Punjab AGAR Application Process
The application procedure for this scheme has not yet started, despite the matter that it has been announced.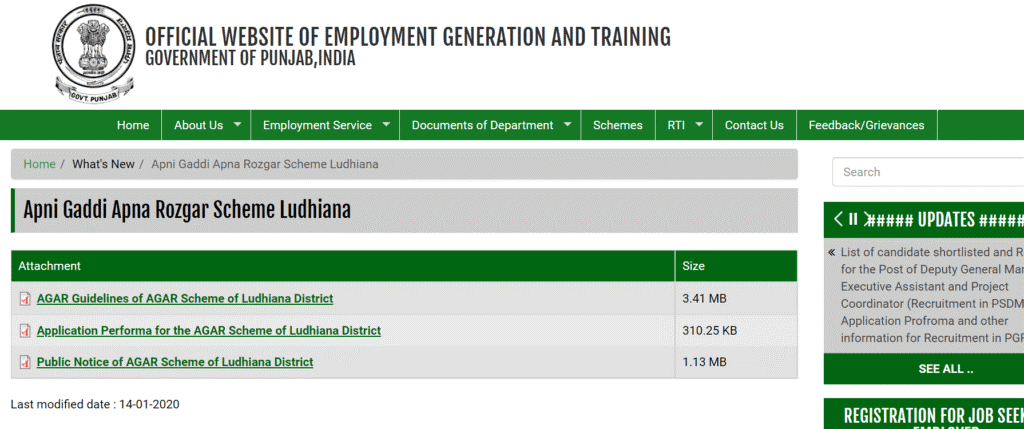 Apni Gaddi Apna Rojgar Yojana
It's the only notice that has taken place. It has been determined to start this scheme as early as possible.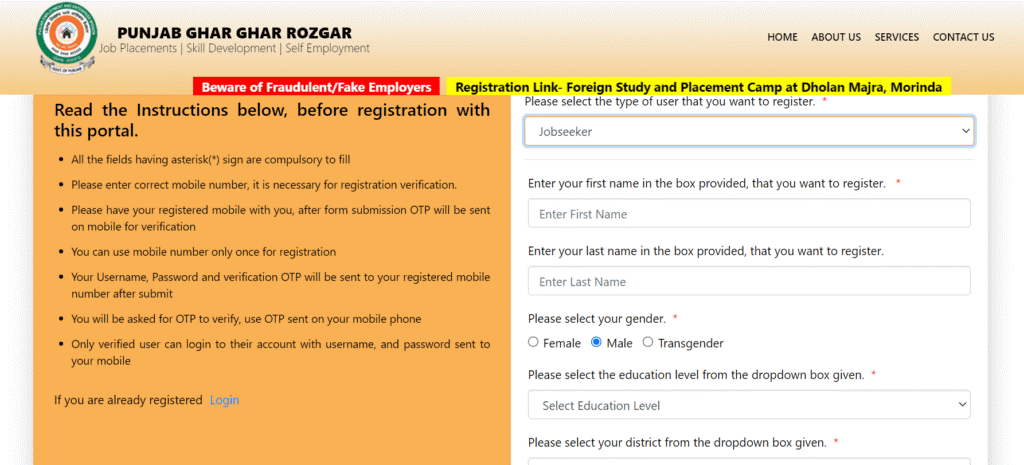 PGRKAM Online Registration 2021
If the scheme is implemented, it will provide jobless youth by giving them with a low-interest loan to set up their own organization. They will also be capable to get a car and start working. They will start to rely on themselves. There will be no requirement for you to rely on anyone; you will be allowed to complete your projects alone and offer for yourself and your family people.
Objective:
 The main purpose of the Scheme is to provide entrepreneurial avenues/self-employment to the youth of economically poor sections of Punjab in the Transport sector.
The scheme intended to develop jobs by light commercial vehicles, way of taxis by involving well known private players.
The aim is to hire the youngsters from the dull class by developing micro-entrepreneurs and to build up commercial driving a more sort out profession with increased socio-economic respect for the commercialized drivers under the program. 
Please follow and like us: